​There is undoubtedly a talent shortage in the renewable energy sector. With a widening renewable energy skills gap, hiring top candidates within the industry is becoming increasingly difficult. Without the necessary skills being brought into the sector, we might find that the progress we so desperately need begins to slow. In this blog post, we will be examining the pain points and challenges when hiring within the renewable sector.
The shortage of skilled workers in the renewable energy industry is not only a local one. It has far-reaching implications throughout the sector globally. As we see the sector advance with new technologies and applications, we are seeing more openings for skilled workers.
For example, in the United States, more than 230,000 people were employed in the sector in 2020, despite the global pandemic. It is predicted that by 2035, more than 900,000 skilled workers will be needed in order to meet renewable goals in the same country. This means that the glaring skills gap is going to become even more of a roadblock to progress as the industry continues to require more skilled workers and renewable energy jobs become harder to place.
As this is a global issue, countries are starting to pull talent from other regions. This creates a talent war throughout the world, where skilled candidates are sought after not only in their own country, but abroad too.
Organisations looking to hire talent in the renewables sector are now competing on a global scale instead of just at a local one. Given the technology we now have available at our fingertips, talent can be sourced from anywhere in the world without even having to relocate in order to fulfill a position.
Employers have to create remuneration packages that are competitive not only in their own market, but globally. Hiring internationally appears to be one of the best ways to deal with the talent shortage locally, but it does put pressure on organisations to ensure their offering can compete on the world stage.
There are five specific ways you can still find the best talent despite the current skills shortage.
Global mobilisation. If you've only been searching for potential candidates locally, now is the time to start sourcing talent from other countries. You don't need to limit the nationality of applicants if you're hiring for renewable jobs in the UK.
Employee offerings. Ensure that you are offering potential employees the benefits they really want. This is not limited to salary and traditional benefits. Candidates want to see the potential for growth within your organisation. Offering training and development, clear career progression strategies, and more will help you win talent.
Employer branding. The strength of your brand can make all the difference when looking to hire top talent. Ensure your organisation comes across as a place where people want to work. Market your brand as an employer of choice. Employer branding can help greatly during renewable energy recruitment.
Cultural change. Look at your diversity and inclusion strategy and analyse whether you are pushing for diversity of thought, experience, and background in your organisation. This could inform your hiring decisions going forward.
Recruitment support. Working alongside renewable energy recruitment consultants and specialists is the best way to locate skilled talent, especially during a shortage. WRS is a quality service provider with vast experience managing complex, sensitive processes. We conduct pre-employment checks, immigration and insurance documentation, local compliance, language challenges, and person-centric care to help recruiters in their difficult search for talent.

Contact us should you need a recruitment partner when searching for talent in the renewable energy sector.
​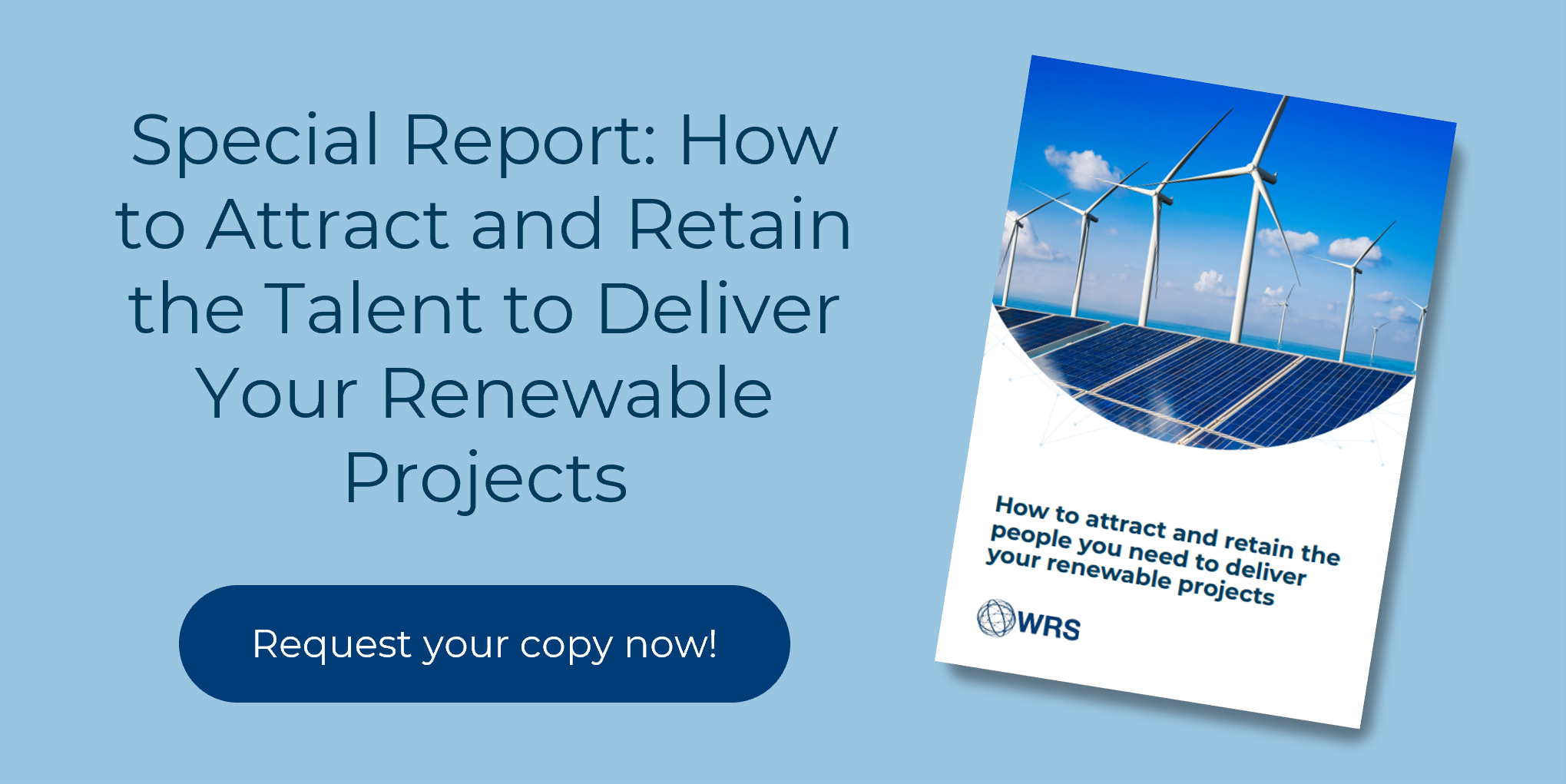 Are you a client looking at how to attract the talent you need to deliver your renewables projects?
Acquiring key talent for your renewables projects is tough in this current tight market. Discover how to attract the best talent in the sector, stand out from the competition, boost your employer brand, fine-tune your recruitment strategy and more by requesting your free copy of our special report.

​Request Your Copy Here