​The global shift towards renewable energy is well underway. And despite turbulence in the job market throughout the pandemic, the green energy industry has many vacancies to fill.
​In fact, there were 12.7 million global energy jobsavailable in 2021 – a clear sign that the industry is thriving. But does the talent to facilitate the transition to renewables exist?
​Not yet. The skills required in the oil and gas industry don't easily transfer to green energy, meaning the sector must rely on fresh or upskilled talent.
​Forecasts suggest that by 2030, the global renewables industry will need 1.7 million blue-collar workers to develop and construct wind and power plants. And the world will need an additional 1.7 million workers to operate and maintain them.
​So, what's the solution to this talent shortage? And who will provide it? Let's take a closer look.
​
Bearing the responsibility
​Unfortunately, there isn't a realistic one-size-fits-all solution to the renewables talent shortage, as countries worldwide face this issue for different reasons. Retraining and educating a new workforce requires infrastructure and resources, but not every country has the facilities.
​Now, many are questioning who's responsible for investing in the next generation.
​Some believe that employers or candidates should shoulder the liability. Others think that governments should fund training and upskilling.
​However, arguably everyone in the international community is responsible for moving towards a net zero future.
​
Upskilling the next generation
​Overcoming the talent shortage requires a holistic approach; responsibility doesn't necessarily lie with one party.
​For instance, a young jobseeker may wish to undertake the relevant training to break into the renewables industry. But if they don't have the funds, they hit a wall before they've even begun.
​Fortunately, grants and initiatives are available to help companies and employees retrain and upskill. Charities, government agencies, and energy firms offer schemes to bridge the talent gap, such as:
National Energy Skills Accelerator (NESA): As a not-for-profit organisation, NESA provides accessible training and qualifications in the UK.

Pilot Energy Transition Skills project: The Scottish government awarded NESA a £1 million grant in October 2022 to support upskilling in the energy sector.

Shell and Scottish Power: The energy giants are transitioning their offshore oil and gas talent to support their two Scottish floating wind farm projects (Marram and Campion). Shell hopes to encourage demand for renewable energy talent and provide jobs in the North East for those previously working with oil and gas.
​Shell also recently announced plans to move offices into Aberdeen to facilitate career development from early education to industry level, with a focus on a lower carbon future.
​
Looking for talent?
​The demand for new talent in the renewable energy sector is only going in one direction - up. With governments across the globe setting goals for a net zero future, the industry will continue to grow.
​WRS provides end-to-end solutions to hire workers across the energy sector, with offices in the UK, the USA, Singapore, East Africa, and more.
​We seek top talent, pair them with the right organisations, and provide the tools to make successful and hassle-free matches for all parties.
​
To find out more about how WRS can assist you as a candidate or an employer, get in touch with the team today.
​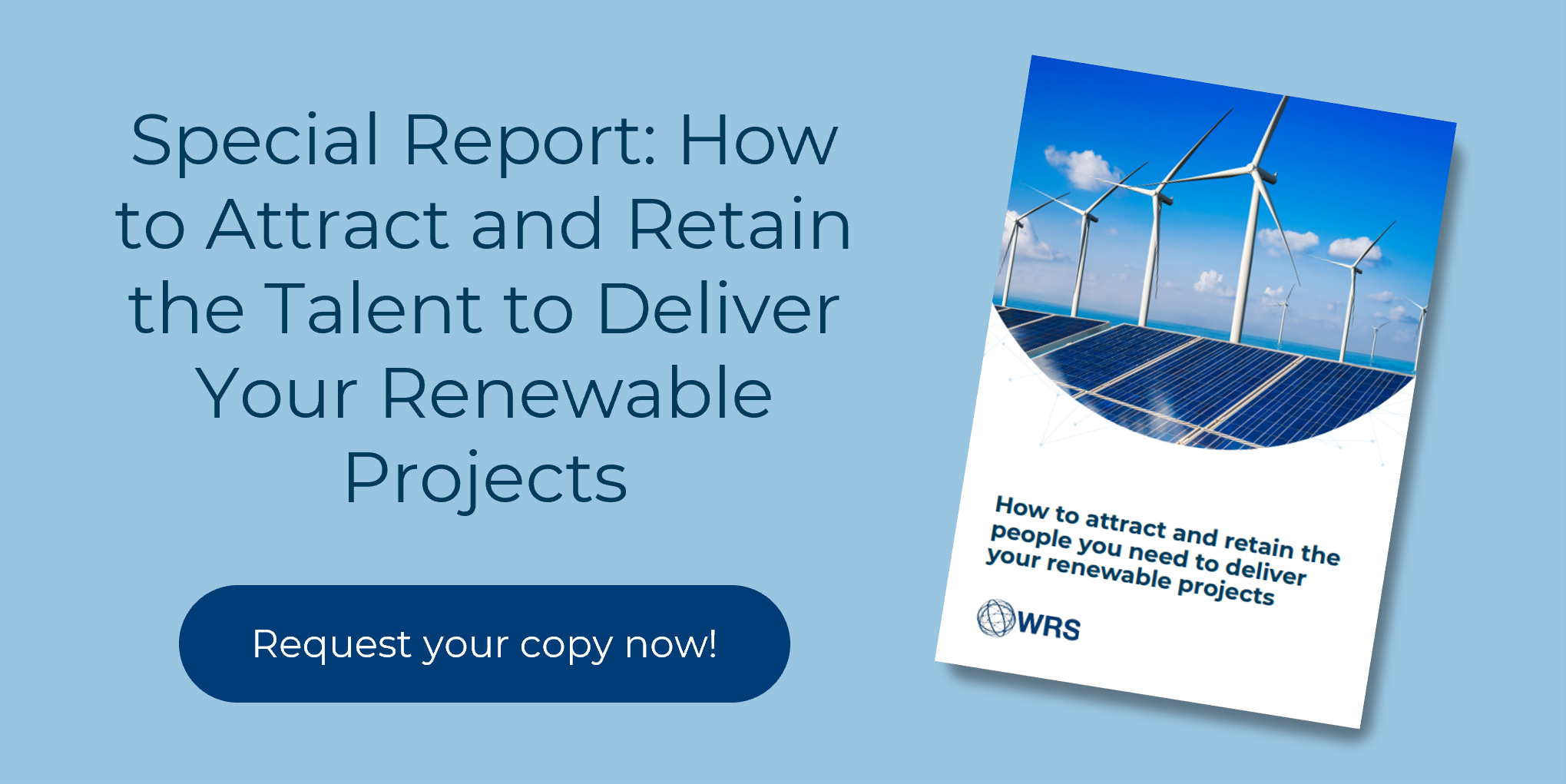 ​Are you a client looking at how to attract the talent you need to deliver your renewables projects?
Acquiring key talent for your renewables projects is tough in this current tight market. Discover how to attract the best talent in the sector, stand out from the competition, boost your employer brand, fine-tune your recruitment strategy and more by requesting your free copy of our special report.

​Request Your Copy Here
​