​The climate crisis and energy security following the Ukraine war have propelled the demand for decarbonisation and renewable energy. Accelerating projects will see the sector's total capacity growth almost double in the next five years.
Between 2022 and 2027, global renewable power capacity will rise to an amount equal to China's entire power capacity today.
This is good news for reaching net-zero targets by 2050 – but is it enough?
​
Why are solar PV and wind dominating renewable energy?
Solar PV advancements and wind power projects have breathed life into the renewable energy sector.
Back in 2010, solar and wind power combined only accounted for1.7% of global electricity generation. But in the next five years, solar and wind will make up 90% of electricity power, overtaking coal – with global solar PV capacity more than tripling.
So, why are solar PV and wind power taking off? Well, they're currently the cheapest option for new, clean energy generation.
Technology is playing its part to decarbonise too. Thanks to low costs and fast government approval, there are more than 11,000 wind turbines in the UK alone – enough to produce almost 25% of the country's energy. And we're doing our bit at WRS.
​
Can global government policies keep up?
The demand exists. But is the transition away from traditional energies moving quickly enough?
Looking beyond Europe and onto the global stage, the US, China, and India are all implementing key policy changes to ramp up their renewable efforts. In fact, the US, Canada, Brazil, Indonesia, and India make up 80% of biofuel global expansion. The US has introduced the US Inflation Reduction Act, providing new support and long-term visibility for expanding renewables across the country.
Meanwhile, China is projected to have a lesser share in global manufacturing by 2027 but dominate almost half of the new renewable energy power capacity.
The path to net zero is set – with costs, technology, and government policies all paving the way for renewables to take over.


Will private companies drive net-zero targets?
Like governments, private businesses have the influence and leverage to make an impact on global sustainability.
High-performing companies are increasingly aware that paying attention to social and environmental issues is beneficial for their business and the planet.
For instance, organisations are able to integrate sustainable initiatives into their core business model, set ambitious targets, and commit to the United Nations Sustainable Development Goals.
​
Your next renewables project
Whether you're a contractor or a hiring manager, the energy transition poses many challenges and opportunities.
WRS works closely with businesses and candidates to support end-to-end workforce solutions. We're committed to playing our part in leveraging global talent and matching the right people with the right projects to support a greener future.
Make your next career move happen by checking out our renewable energy vacancies.
​
Want to know more? Reach out to our team today.
​
Hire recruits for your next renewables project
​As noted, the skills gap is one of the biggest challenges facing the renewables sector.
WRS has extensive experience working with clients and candidates to fulfil the demand for contractors around the globe – providing end-to-end workforce solutions. If you're a candidate looking for a job opportunity in the renewable energy sector, browse our job vacancies.
To find out more, start a conversation with our team today.
​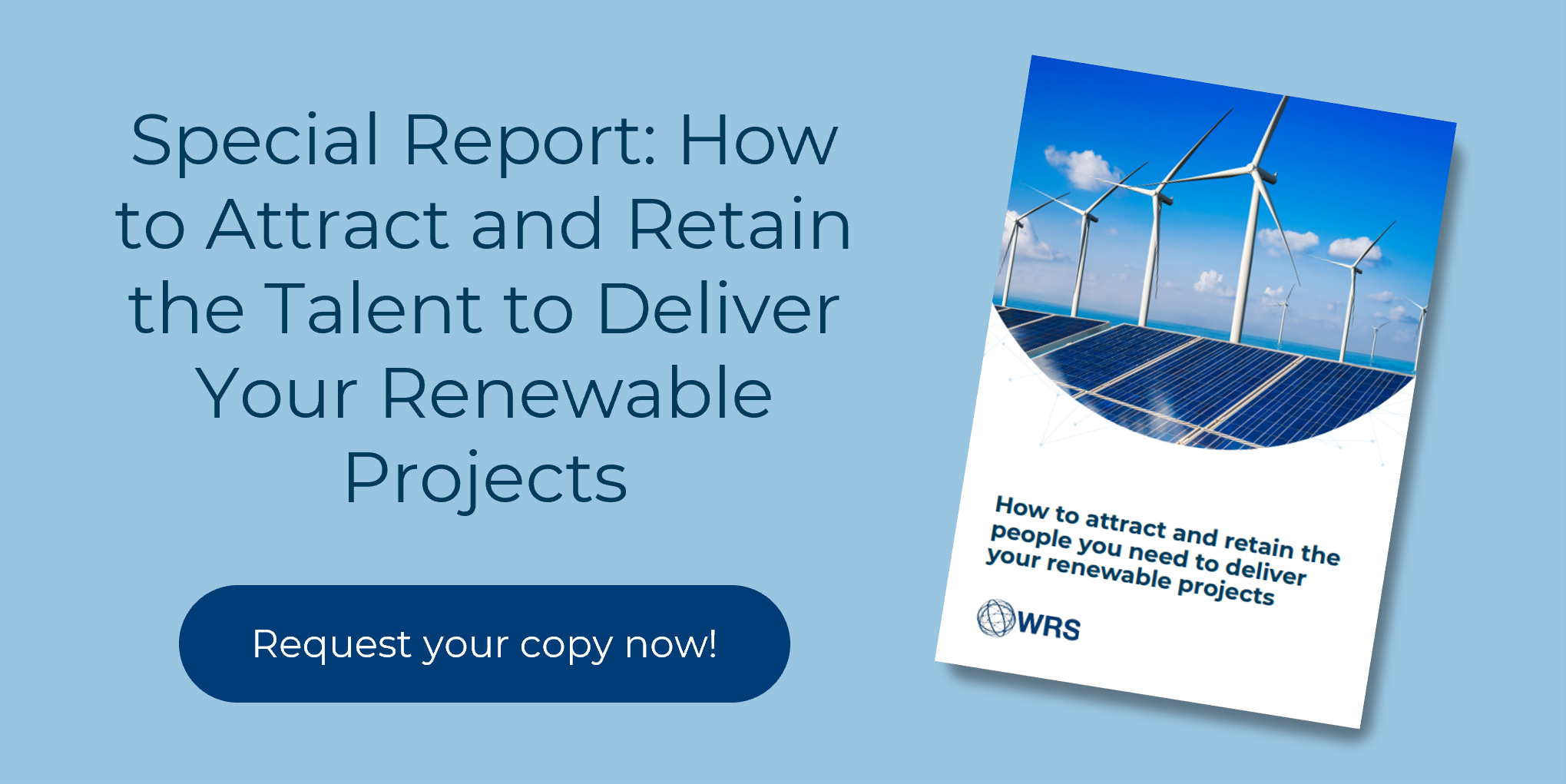 ​
Are you a client looking at how to attract the talent you need to deliver your renewables projects?
Acquiring key talent for your renewables projects is tough in this current tight market. Discover how to attract the best talent in the sector, stand out from the competition, boost your employer brand, fine-tune your recruitment strategy and more by requesting your free copy of our special report.

​Request Your Copy Here
​