​What's new at WRS?

Welcome Onboard
This month we welcome a new starter to the WRS USA team, Samuel Kippen. Samuel Kippen is a Trainee Recruitment Consultant for the renewable energy sector. Good Luck on your journey with WRS.
​
Stateside News
Our Tampa office is continuing to thrive in its first few months. We're delighted to welcome Curtis Stewart to the US team as SVP of our Construction division.
Curtis has previously worked in Canada and the US. Hitting the ground running, he's another valued member of the team. If you need help with your construction hiring or are looking for your next move, please contact Curtis.
It's an exciting time for WRS US. Fancy joining the WRS team? Check out our vacancies or email us to let us know you're interested. For job opportunities at our Tampa office, please contact Francis Dunleavy.
​

Awards Season for WRS
We're delighted to share that Worldwide Recruitment Solutions has been named the winner of the inaugural Made in the UK, Sold to the World Awards for the Financial and Professional Services category. This prestigious award recognises companies that have successfully expanded their business beyond the UK and are making a significant impact in international markets.
Click here to find out more about our award win…
​

What's Happening at WRS
May 18th - On Thursday the 18th of May, our UK team explored food from around the world to raise money for Mind.
We created this fundraising event to inspire our people to learn more about different foods and cultures, and even try them for themselves.
​The money from every item sold was donated to Mind a mental health charity, click here to learn more about the organisation.
​If you want to see more, check out our other upcoming events click here...
May 20th - This month we celebrated our Mancunian heritage.
As it was World Bee Day last month, we thought it would be an opportune moment to highlight our northern roots.
Worldwide Recruitment Solutions' UK headquarters is in Altrincham, just outside of Manchester – the home of the worker bee. We've always championed the true wonders of the north, especially in this diverse and welcoming city.
What better way to commemorate our rich history than by recognising World Bee Day?
​

We Attended WindEurope
The WRS team headed to WindEurope 2023 in Copenhagen for fun and interesting conversations.
We were able to build on our existing client connections and build new ones. For support and advice on new or ongoing projects, please reach out to our Business Development team.
In the meantime, why not take a look at our renewables guide on how to attract and retain fresh talent.
​

Celebrating Team Milestones and Work Anniversaries
Members of the WRS team continue to thrive and grow. In May, Callum Hird was promoted to Credit Control Manager. On behalf of everyone at WRS – we wish you many years of great achievements!
We've also had a few work anniversaries to celebrate across the team this month. We're celebrating 10 incredible years with our amazing Divisional Manager, Matthew Spells. We appreciate all that Matt has done and will continue to do for the WRS community. Thank you for your enthusiasm, positivity, and passion for serving our mission and values. Thank you Matt, for being part of this journey with us! Here's to another decade of success. Congrats!
And happy 2 year work anniversary Jordan Lee! Thank you for all of your dedication, and commitment to developing the WRS marine division over the past 2 years! Congratulations on this milestone! Here's to many more years of success!
​

Committed to Climate Partner
We're working with Climate Partner to better offset our carbon and improve our current climate strategy.
We've now handed them all the relevant information for them to do a full review, with more announcements to be made over the coming months. So, watch this space to find out more about our on-going climate commitments and actions.
We're always looking for talented individuals to join our WRS community, so if you'd like to join our global team, contact Emma Upton, HR Manager at emma.u@worldwide-rs.com.
​

Check Out Our CV Submissions Function
Ever browsed our jobs page and been unable to find a suitable role? Curious candidates who are eager to find their next role in the energy industry can now take full advantage of our CV submissions feature and be added to our talent network.
Head to our website now and upload yours!
​

Joining WRS
We're delighted to expand our team with a Business Administration Apprenticeship role and Sales Ledger Administrator at WRS – based at our Altrincham office in South Manchester. If you're interested, find out more and apply online.
​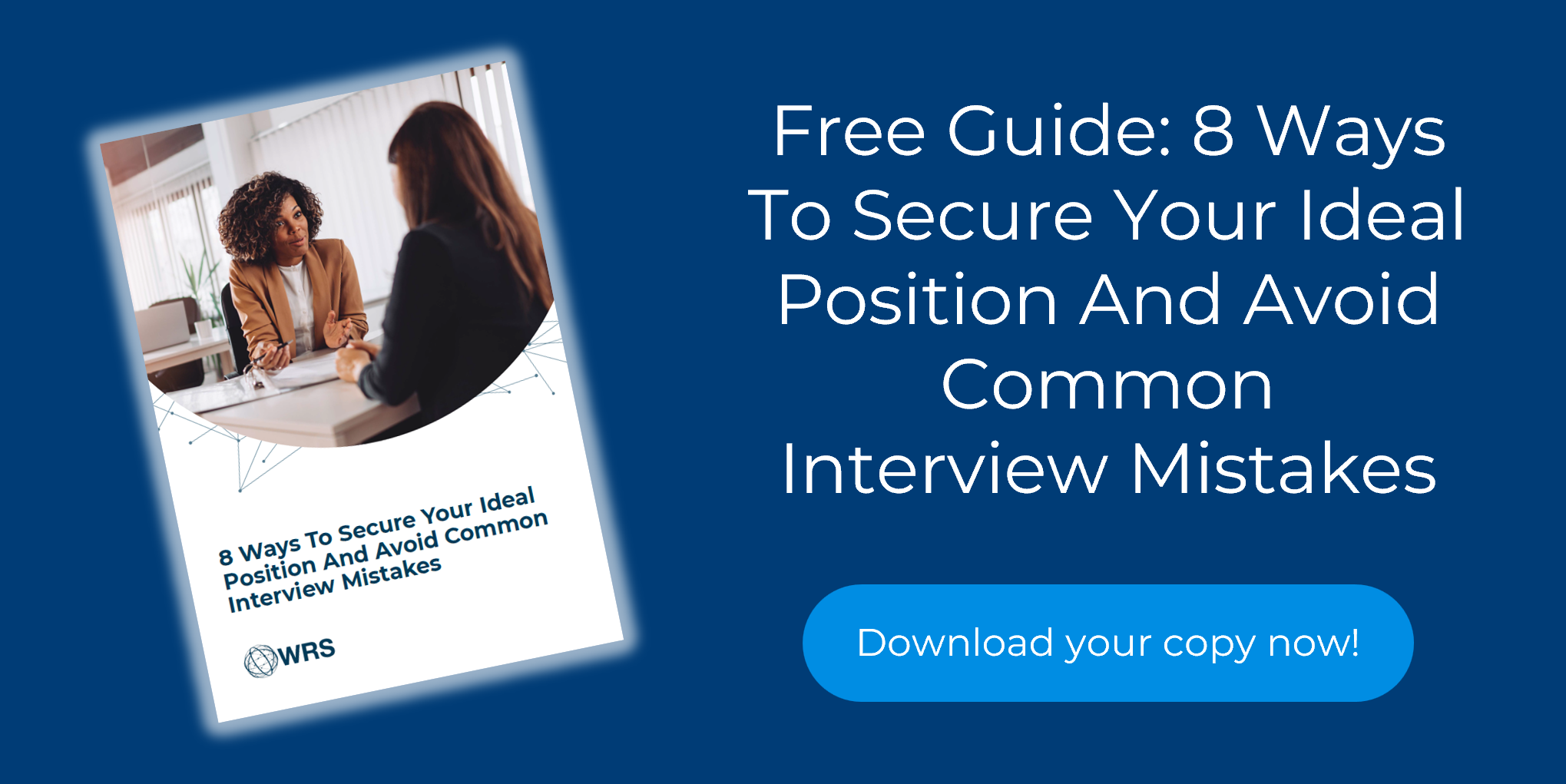 Looking To Land A New Role? We've Got You Covered
You probably don't need us to tell you that there's currently a skills gap across the sector. In divisions like Marine and Renewables especially, it's very much a candidate's world. But this doesn't mean you can sit back and relax– there's still plenty of competition floating in the talent pool.
​So, what can candidates do to get ahead of that competition? Read our guide to find out.
Learn how to:
Create an impactful CV

Get the most out of LinkedIn

Ask the right questions

Conduct relevant research

And more…
​We've pulled together key insights and tools to help you boost your performance during the hiring process – whatever discipline you work in. ​Download our guide today and let's enhance your job prospects.
​
Get your FREE copy
​