​It's like a jungle out there and hiring the cream of the crop has become a lot more challenging recently. Candidates are in a position to be more choosy, and competition to secure top talent is fierce.
Nearly a third (29%) of businesses believe their direct competitors are miles ahead in the recruitment game. So, how do you gain the upper hand and beat your competitors?

1. Simplify the application process
First things first, you need to get the right people to apply for your job openings, and you want to make this as straightforward as possible.
Candidates will likely apply for several different positions. You'll need to follow your internal guidelines, but don't ask too much of them and risk sending them to competitors with simpler application processes.
Ask yourself, is it easy for applicants to submit their CV or do they have to complete an online form? Can they apply on an external job site (like LinkedIn or Indeed) or do they need to go through your website?
In all likelihood, the candidate has already spent quite a bit of time crafting their CV before seeing your job ad, so don't ask them to repeat this information. You'll soon get an influx of applications. A good recruiter can manage these and pick out the best candidates for you to take further.
​
How do you make your job advert stand out?
As an employer, you need to stand out. Here's how:
Highlight your company culture

Your job description should be engaging and easy to read

Emphasise the differences between necessary and desirable skills and qualifications

Advertise your corporate social responsibility (CSR) efforts
​
2. Offer a competitive package
Organisations have to think outside the box to attract the best talent to their teams. For instance, offering competitive compensation and benefits can make you more attractive to job seekers.
Companies across the board are reconsidering salaries and benefits – like health insurance – to win talent over. But, as macro market data lags behind, employers find it increasingly difficult to know just how competitive the rates are.
Remote and hybrid working are increasingly popular too, with over 30% of full-time UK employees working both in the office and at home. Offering flexibility could put you one step ahead.
Enlist an experienced recruiter – like WRS – to make sure your benefit packages are competitive. Our extensive knowledge of the industry and effective benchmarking put us in the right place to help you secure top talent.
​
3. Tap into passive talent
Sometimes the best people for the job aren't necessarily the ones actively applying. Otherwise known as passive candidates, these individuals require a different approach.
You'll need to be more personal. Direct messages on LinkedIn should address their experience specifically as they might ignore any blanket messages.
Plus, passive candidates might feel comfortable in their current role, so you'll need to persuade them. When making initial contact, detail the role's benefits and the organisation's culture.
Approaching passive candidates can be very rewarding. But it requires a lot of time and resources. An experienced recruitment agency can identify potential candidates and reach out on your behalf, and support every step of the interview process.
​
4. Streamline the interview experience
Sending in a CV and cover letter requires relatively little effort. But attending an interview means committing a significant amount of time.
While it's necessary for businesses to narrow down the list of candidates, they're often the stage where applicants are most likely to drop off. In fact, 55% believe too many interviews can put people off.
Unless you can keep their interest long enough to get through the interview process, you might lose top candidates. And the longer candidates have to wait to find out if they're successful, the more time the competition has to snap them up.
So, try and stick to two or three interviews – or fewer if you set a competency task.
That said, more and more companies are seeing the importance of using the interview process to find like-minded people. It's a balancing act – consider integrating your values into the process without taking up too much of your potential candidate's time.
​
5. Tap into global talent
Whilst hiring overseas contractors might be challenging, there are many opportunities too.
Organisations taking advantage of global mobility are able to break into new markets and reach fresh talent – particularly beneficial in the energy sector as we grapple with the skills shortage.
WRS offers specialist contractor care services, ensuring a seamless overseas contractor hiring process.
​
Recruit with WRS
Hiring employees takes up a lot of time and resources, especially when you're looking for the best.
Whether you want the next generation of renewables talent or you're struggling to find an experienced candidate for your next project, WRS can help.
We deliver end-to-end workforce solutions for companies and candidates across the globe, matching the right talent to the right organisation.

To find out more, contact our team today.
​
Hire recruits for your next renewables project
​As noted, the skills gap is one of the biggest challenges facing the renewables sector.
WRS has extensive experience working with clients and candidates to fulfil the demand for contractors around the globe – providing end-to-end workforce solutions. If you're a candidate looking for a job opportunity in the renewable energy sector, browse our job vacancies.
​
To find out more, start a conversation with our team today.
​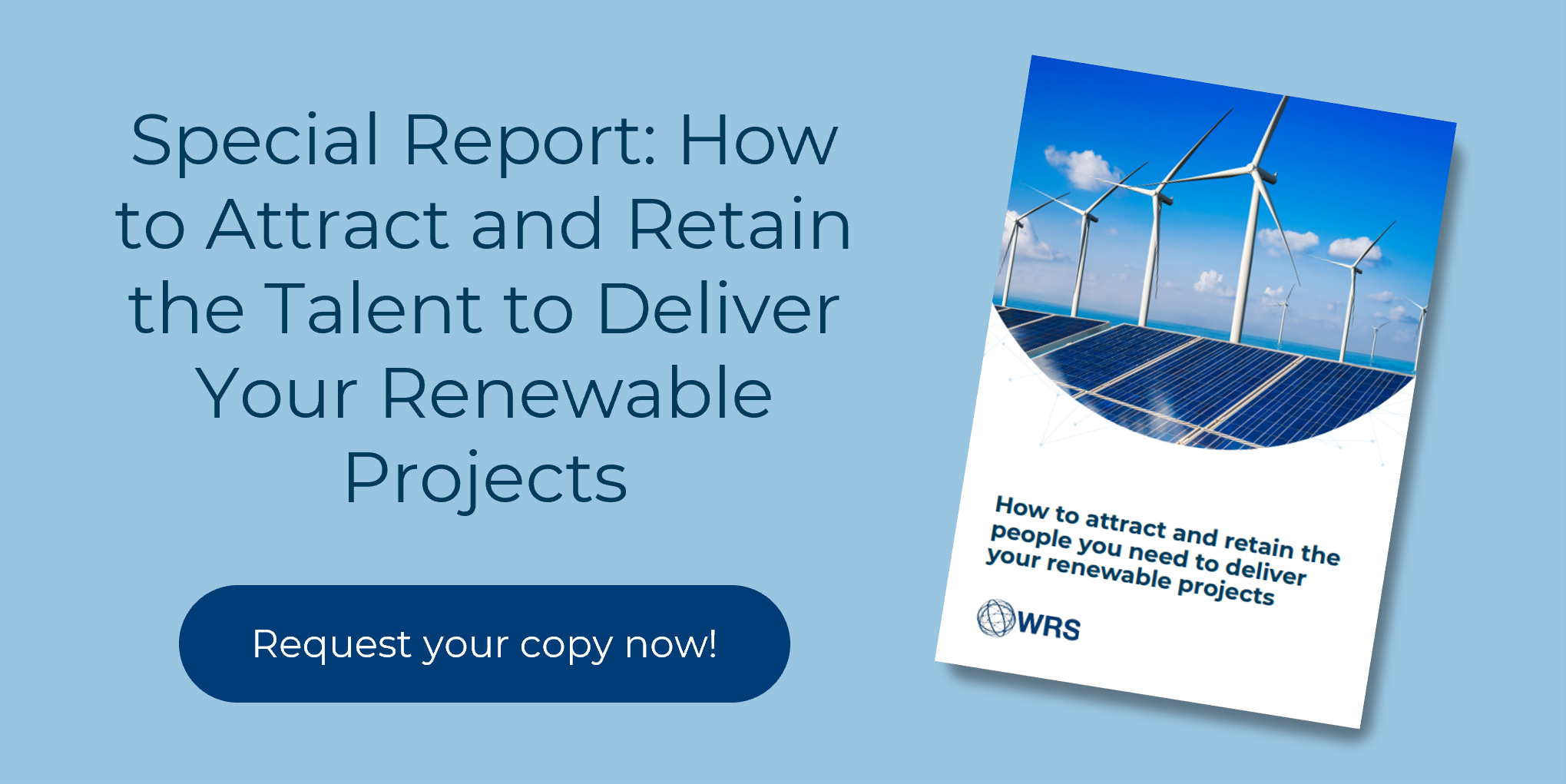 ​Are you a client looking at how to attract the talent you need to deliver your renewables projects?
Acquiring key talent for your renewables projects is tough in this current tight market. Discover how to attract the best talent in the sector, stand out from the competition, boost your employer brand, fine-tune your recruitment strategy and more by requesting your free copy of our special report.

​Request Your Copy Here